It's almost time for the 2020 Grammy Awards!
Lizzo heads into the night with the most nominations. She's up in eight categories, including Record of the Year, Album of the Year and Song of the Year. However, Billie Eilish and Lil Nas X follow closely behind with six nods apiece.
All three of these musicians are first-time nominees. They're also all in the running for Best New Artist along with Black Pumas, Maggie Rogers, Rosalía, Tank and the Bangas and Yola.
While fans will have to wait until this Sunday to see who takes home the trophy, one thing is for sure: Whoever wins will be in very good company. Alicia Keys, Adele, Carrie Underwood, John Legend, Maroon 5 and Christina Aguilera are just a few of the superstars to win Best New Artist. Dua Lipa also won the award last year.
For some, the award is a career breakthrough. For others, it's a curse.
To see for yourself, check out the gallery.
Scott Gries/ImageDirect
2000: Christina Aguilera
XTina's career has only gotten bigger since the "Genie in a Bottle" singer took home the Best New Artist trophy 20 years ago. She's been nominated a total of 20 times and has won a total of five Grammys.
Dave Hogan/Getty Images
2001: Shelby Lynne
This Grammy win marked the country star's first and only Grammy win and nomination.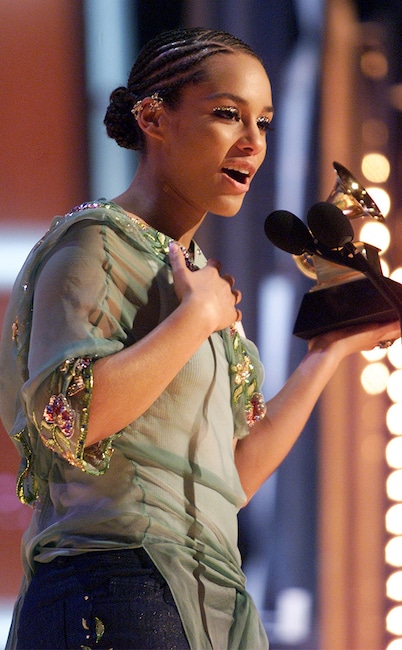 Frank Micelotta/ImageDirect/Getty Images
2002: Alicia Keys
The musical lady has been nominated 29 times in her career and has taken home 15 of trophies. She's also this year's host.
Larry Busacca/WireImage.com
2003: Norah Jones
Jones has been nominated for 16 Grammys, winning nine of them so far in her career.
Frank Micelotta/Getty Images
2004: Evanescence
In addition to winning Best New Artist that year, the band also won Best Hard Rock Performance for "Bring Me to Life." The group has received a total of six nominations and two wins over the years.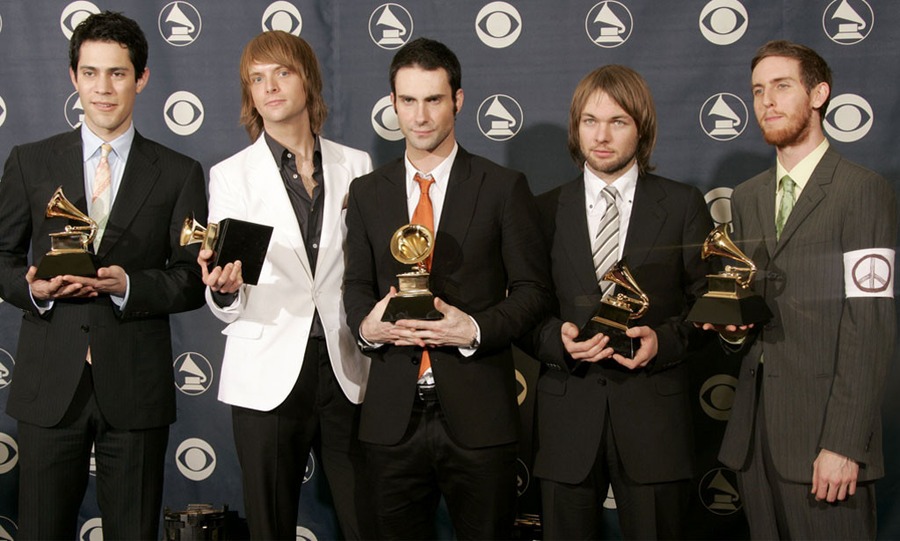 Getty Images
2005: Maroon 5
This group has nabbed 13 Grammy nominations and three wins over the years.
Michael Caulfield/WireImage
2006: John Legend
Chrissy Teigen's main man won the award for Best New Artist in 2006. In fact, he's secured 31 Grammy nominations and 10 wins so far in his career. He's even an EGOT winner.
Kevin Winter/Getty Images
2007: Carrie Underwood
In addition to winning Best New Artist in 2007, Underwood took home the trophy in the Best Female Country Vocal Performance category for "Jesus, Take the Wheel." She's secured a total of 14 nominations and seven wins so far in her career.
Peter Macdiarmid/Getty Images for NARAS
2008: Amy Winehouse
2008 was a big year for Winehouse. In addition to winning Best New Artist, she won Record of the Year, Song of the Year and Best Female Pop Vocal Performance for "Rehab." She also won Best Pop Vocal Album for Back to Black. She received a total of eight nominations and six wins before her death in 2011.
Kevin Winter/Getty Images
2009: Adele
The British singer has won a whopping 15 Grammys in her career. In addition to winning Best New Artist in 2009, she snagged the Best Female Pop Vocal Performance for "Chasing Pavements."
JOE KLAMAR/AFP/Getty Images
2010: Zac Brown Band
Over the years, the band has been nominated for eight Grammys and has taken home three trophies.
AP Photo/Matt Sayles
2011: Esperanza Spalding
In a surprising move, the jazz singer beat out Justin Bieber and Drake for the Best New Artist Grammy. She's secured a total of seven nominations and three wins. This year, she's up for Best Jazz Vocal Album and Best Arrangement, Instruments and Vocals for 12 Little Spells.
Kevin Winter/Getty Image
2012: Bon Iver
Justin Vernon, the man behind Bon Iver, surprised many when he won the highly coveted award. He has a total of two wins and seven nominations under his belt.
Kevin Winter/Getty Images
2013: Fun.
According to The Recording Academy, the group's sophomore album, Some Nights, sold more than three million copies in the U.S. and was nominated for two Grammys. In fact, the band received a total of five nods and one win in 2013.
Jordan Strauss/Invision/AP
2014: Macklemore and Ryan Lewis
The musical duo received five nominations at the 56th Annual Grammy Awards. They won in three categories—Best New Artist, Best Rap Album (The Heist) and Best Rap Performance ("Thrift Shop").
John Shearer/Invision/AP
2015: Sam Smith
The singer took home the trophy for Best New Artist at the 57th Grammy Awards. He also won three more Grammys that year. His debut album, In the Lonely Hour, won Best Pop Vocal Album and "Stay With Me (Darkchild Version)" won Song and Record of the Year.
ROBYN BECK/AFP/Getty Images
2016: Meghan Trainor
In 2015, the singer was named Best New Artist. She has two more Grammy nominations under her belt—Record of the Year and Song of the Year—for her hit "All About That Bass."
Kevin Winter/Getty Images for NARAS
2017: Chance the Rapper
His 2016 album Coloring Book took off with flying colors. He has a total of three wins.
Jeffrey Neira/CBS via Getty Images
2018: Alessia Cara
The singer was also up for Best Music Video, Song of the Year and Best Pop Duo/Group Performance that year.
ROBYN BECK/AFP/Getty Images
2019
Last year, Dua Lipa took home two trophies—one for Best New Artist and one for Best Dance Recording for her song "Electricity" with Silk City, Mark Ronson and Diplo. However, her fans weren't too happy when the microphone was cut off during her acceptance speech.
Watch E!'s Live From the Red Carpet 2020 Grammy Awards coverage Sunday, Jan. 26 starting at 4 p.m. ET/1 p.m. PT followed by the Grammys telecast at 8 p.m. ET/5 p.m. PT on CBS. And for a recap of music's biggest night immediately following the show, don't miss the E! After Party special at 11:30 p.m. ET/8:30 p.m. PT, only on E!