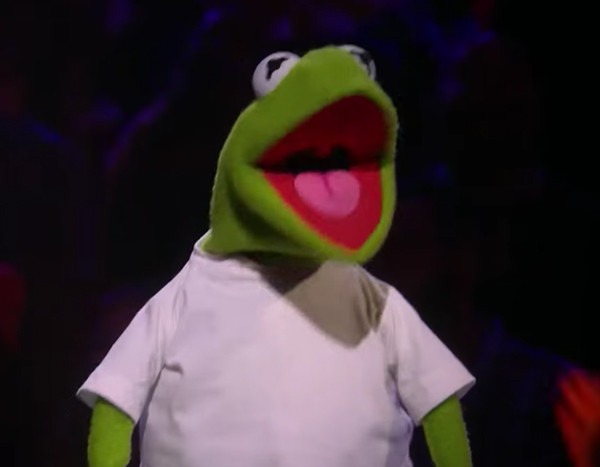 It's safe to say there is only one place where you will find Hailey Bieber, the Muppets, Jason Biggs, Kevin Smith, a whole mess of Glee veterans, stars from Lost, and American Horror Story's Adina Porter rapping a Method Man song. And that place? It's right here.
In the exclusive video above, participants from the new season of Drop the Mic come together for an ensemble performance of Method Man's "Bring the Pain." The Drop the Mic hosts, Method Man and Hailey Bieber, even get in on the fun.
Who knew American Pie's Eddie Kaye Thomas had it in him?
The new season kicks off with Taran Killam battling Rob Riggle, and Laverne Cox going up against Boy George. Future episodes include, Kevin Smith vs. Jason Mewes, Kermit the Frog and Pepe the King Prawn up against Miss Piggy and Beaker, a Lost reunion battle with Daniel Dae Kim, Josh Holloway and Harold Perrineau, a Glee reunion battle with Amber Riley, Harry Shum Jr., Becca Tobin, Kevin McHale, Jenna Ushkowtiz and Heather Morris, Danielle Brooks up against Jussie Smollett, Christina Milian vs. Ashlee Simpson, an American Pie battle with Jason Biggs vs. Eddie Kaye Thomas, and many more.
See the fun video above.
Drop the Mic returns on Wednesday, Jan. 23 at 10 p.m. on TNT.