America finds itself at a crossroads.
In a year with the status quo already upended by the necessary steps to curtail the wildfire-like spread of a global pandemic, the country finds its idea of what was once "normal"—and the insistence upon returning to it—challenged once more by great social unrest. Citizens have risen up across America and the globe to demand an end to the police brutality and systemic racism felt disproportionately by Black Americans for far too long, and have forced the country to carve out a path that is more equitable and just.
And, in keeping with its role as a microcosm of the United States, Hollywood, too, finds itself at the same crossroads, with everyone asking the same thing: Where do we go from here?
While the path forward decided upon by those in positions of power remains to be seen, what is readily apparent is where they can't go, where they mustn't try to return. And that's back to what was.
With an industry that supports 2.6 million total jobs—around 927,000 of those directly related to the production and distribution of film and TV shows—adversely affected by the shuttering of productions in the wake of COVID-19, leaving many in economically precarious positions, there is an urgency in getting people back to work. And that's not even including the countless other jobs impacted in the recording and publishing industries. But as the country slowly begins to reopen, Hollywood, for the most part, remains closed as unions, studios and public health officials work to put together new protocols and safety measures designed to keep everyone safe and healthy.
As such, what the set of a film or TV show once looked like is truly an impossibility.
"There will have to be safety measures in place," Los Angeles City Council member Mitch O'Farrell, who helped establish a task force designed to reopen Hollywood, told NBC News in May. "We want to get people back to work, but we want to keep the environment safe."
While some shows, particularly talk shows, have turned into virtual productions with everyone operating out of their homes, the great majority have been put on an indefinite pause, as everyone considers how best to keep safe the dozens, if not hundreds, of employees on any given set who remain behind the scenes. Think assistants, wardrobe, hair and make-up, sound engineers, caterers. It's these people, the ones who have also been hit the hardest financially during this shutdown, who also could find themselves most at risk of contracting COVID-19 if brought back to work too soon and without proper modifications made.
"The worst thing we can do is roll out a set of protocols and then we find there is an infection rate at various locations and studios, and then we have to shut down again," O'Farrell said. "It's really important that we can take thoughtful, judicious action in drafting these protocols."
Gabrielle Carteris, president of the Screen Actors Guild-American Federation of Television and Radio Artists, added, "We're working with everyone in the industry to figure this out. We have to do this together."
Admitting that the availability of rapid testing will be "paramount" in getting people back on set, she continued, "This will change our industry. This will launch a whole new set of creativity."
To that end, the Alliance of Motion Picture and Television Producers has drafted a 22-page "white paper" of proposed health and safety guidelines calling for, among other things, regular testing of crew members, six-foot physical distancing, and widespread use of face coverings and submitted it for approval in New York, California and Los Angeles County, specifically, Variety reports. While the state of California has given the green light for productions to resume on Friday, June 12, so long as local counties sign off, and L.A. County announcing its intent to follow suit, union representatives have yet to sign off on the new job-by-job protocols.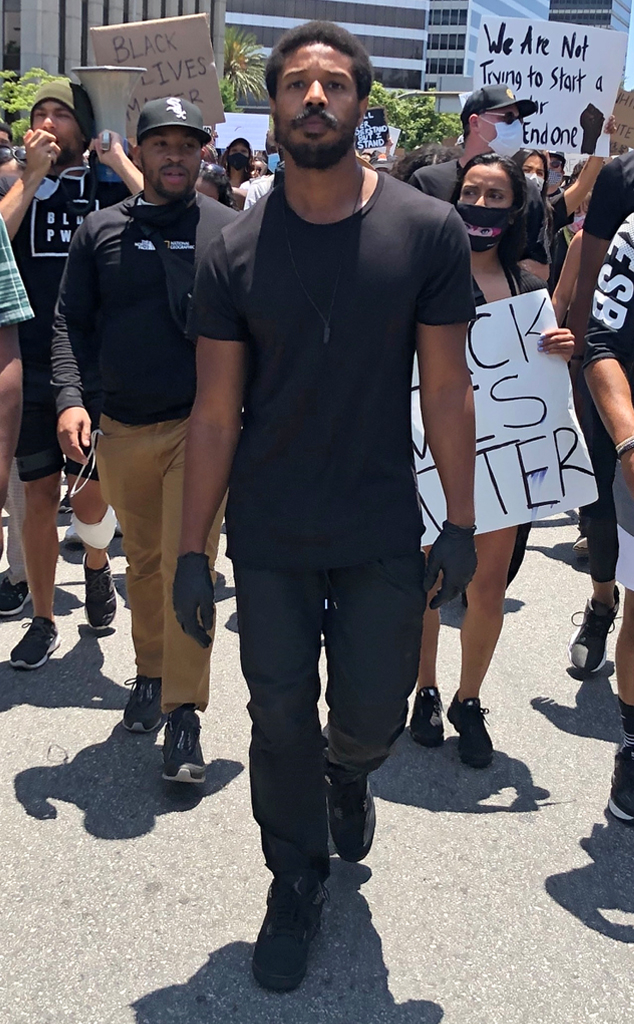 Dsanchez/CPR / BACKGRID
While the desire to get people back to work to tell the world's stories is understandable, the industry is also beginning to grapple with its commitment to diverse representation and its support of Black voices in the wake of George Floyd's death and the social unrest it's caused. Now, it's worth looking at just who it is they're bring back when they do.
"We have to re-look at our business," Michael B. Jordan told a crowd of protesters at an event on June 6th organized by the industry's leading talent agencies, according to The Hollywood Reporter. He further called on studios and agencies to "invest in Black staff."
Below are the most recent statistics available regarding the racial diversity of our film studios, TV networks, record labels and publishing houses.
Film
According to the findings in the UCLA Hollywood Diversity Report 2020, authored by Dr. Darnell Hunt and Dr. Ana-Christina Ramón and published this past February as the seventh in an annual series, the people with the power to decide which types of films will be made, not to mention with which budgets and by whom, at the 11 major and mid-major studios continue to be almost nearly all white men.
Of the 11 chairs/CEOs, 91 percent were found to be white and 82 percent male. Among the 57 senior executives, 93 percent were white and 80 percent male, while of the 102 unit heads, 86 percent were found to be white and 59 percent male.
Additionally, the report found that, in 2019, three out of 10 lead actors in film were people of color. Broken down further, 67.3 percent of all film roles belonged to white actors, while Black actors had a 15.7 percent share, Asian actors had 5 percent, Latinx had 4.6 percent and Indigenous had 0.5 percent.
Behind the camera, the report noted that 1.4 out of 10 directors were people of color and 1.5 out of 10 were female, while 1.4 out of 10 writers were people of color and 1.7 out of 10 were female.
In an excerpt of his speech quoted by Vulture, Jordan further challenged the film industry. "You committed to a 50/50 gender parity in 2020," he said. "Where is the challenge to commit to black hiring? Black content led by black executives, black consultants. Are you policing our storytelling, as well?"
While the TV counterpart to the UCLA Hollywood Diversity Report for 2020 has yet to be released, looking back on last year's report gives an idea of the diversity among the people creating the shows viewers have been turning to for comfort during social distancing. Published last February, the report analyzed all 1,316 shows airing or streaming across six broadcast networks, 62 cable networks and 48 digital platforms during the 2016-17 season. Among its finds:
Two out of 10 lead actors in broadcast scripted TV are people of color, under proportionate representation based on their share of the U.S. population by nearly half. For cable and digital scripted, as well as all forms of reality, that number never went above 3 out of 10.
In terms of all roles, white people had a 63.3 percent share of broadcast scripted, 71.8 percent share of cable scripted, and 70.3 percent of digital scripted.
According to another 2017 study entitled "Race in the Writers' Room", written by Hunt and commissioned by Color of Change, over 90 percent of showrunners at that time were white, two-thirds of shows had no Black writers at all, and another 17 percent of shows had just one Black writer.
Meanwhile, a study published this spring entitled "Behind the Scenes: The State of Inclusion and Equity in TV Writing," conducted by the Think Tank for Inclusion and Equity, itself a project of the Pop Culture Collaborative and Women in Film, shared its findings after conducting an anonymous survey among 333 "underrepresented" working TV writers, writing program/fellowship participants and alumni, and writers room support staff. (For the purposes of the report, the umbrella term "underrepresented" included respondents from the following communities: women/non-binary, people of color, LGBTQ+, and people with disabilities.)
In the report, it was noted that 68.5 percent had faced discrimination in the industry, 39.4 percent had "witnessed erasure and/or stereotyping of underrepresented characters on their shows," and 33.9 percent had "been asked to change a character's identity to increase the odds of selling a project."
And then there's "Normalizing Injustice," a report by Color of Change and the USC Annenberg Norman Lear Center published in January that took a look the proliferation of the police procedural, the genre's exclusion of writers of color, and the impact of its cop-centric storytelling. Noting that they analyzed "353 episodes from 26 different scripted series focused on crime from the 2017–2018 season, while also identifying the race and gender of the 41 creators, 27 showrunners and 275 writers behind all 26 series," the report concluded that 81 percent of showrunners were white men and 20 of the 26 series had either no Black or one Black writer. Thirty-seven percent of writers across the genre were women, with women of color coming in at 11 percent.
In an essay penned for Vanity Fair, S.W.A.T. co-creator Aaron Rahsaan Thomas noted that, as a Black man who made his career "writing for network police shows," he is "a rare creature."
He continued, "In the shadow of George Floyd's death at the hands of Minneapolis Police Officers, a question persists—how are the shows we are writing contributing to perceptions of the justice system, class, race, and the image of black men? I look at this, not as a creative burden, but a necessary responsibility."
In a recent study co-authored by Willa Köerner and René Kladzyk and published by The Creative Independent, 298 musicians and industry professionals were surveyed about the industry. While no personally identifying information (including race or gender) was asked of the participants, 83 percent of the industry professionals surveyed reported that "more than three quarters of their company's leadership positions were held by white people," while nearly 70 percent reported that those same positions were held by cisgender men.
Publishing
According to a study entitled the Diversity Baseline Survey, conducted by Lee & Low Books among nearly 8,000 professionals and published this past January, 78 percent of employees at the executive level self-identified as white, with 85 percent of editorial staff across the industry doing the same. At the intern level, however, 49 percent of respondents self-identified as BIPOC.
In early June, #PublishingPaidMe went viral on Twitter, with authors exposing what they've been paid for their books in the effort to spotlight the pay disparity between white authors and Black authors. As Roxanne Gay, the award-winning author of Bad Feminist and Hunger, shared the advances she'd been paid per book, she added, "The discrepancy along racial lines is very real. Keep your day job. But the published books earned out immediately and that's nice… I like my publishers quite a lot but this is why alll those corporate statements about diversity are nonsense. A little Instagram post doesn't make up for racial disparities in everything else."
As an industry of storytellers begins to look inward and evaluate just whose stories they're telling moving forward, not to mention whom they're hiring to tell them, the words of E! host Nina Parker come to mind:
"This is not something that's gonna be over in two weeks," she told Ria Ciuffo and Fran Mariano on their Chicks in the Office podcast in early June. "As we've talked about living with COVID-19, this is also something now…like, things are not gonna go back to normal. Our 'normal' that we had before this is done."
"E! stands in solidarity with the black community against systemic racism and oppression experienced every day in America," the network said in a statement. "We owe it to our black staff, talent, production partners and viewers to demand change and accountability. To be silent is to be complicit. #BlackLivesMatter."