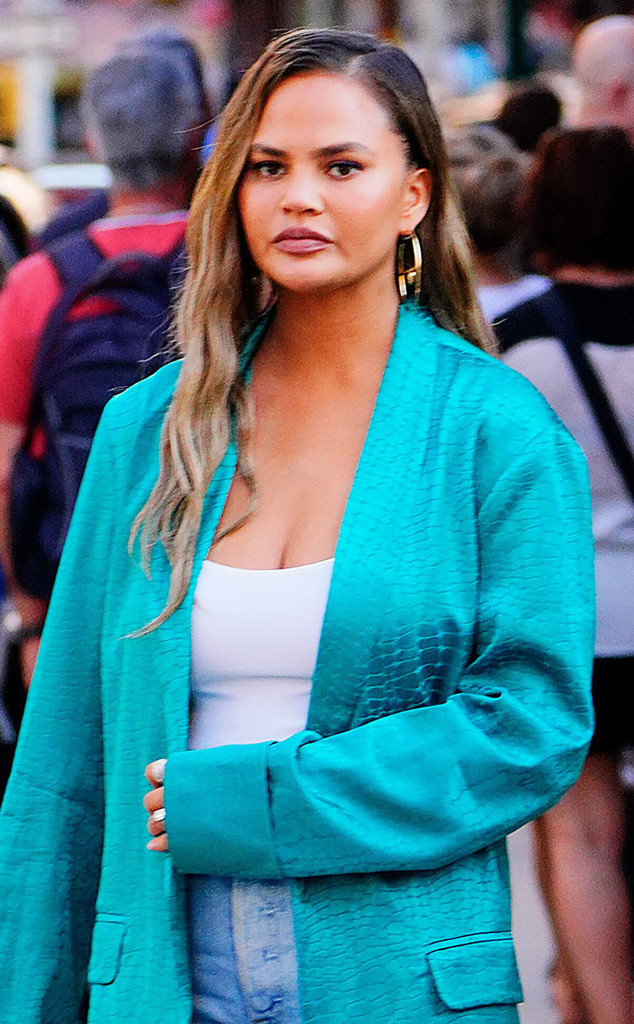 Gotham/GC Images
Chrissy Teigen is over you talking about her behind.
This week, the star spoke out about a photo that popped up of her with husband John Legendon vacation. In the snap, the famous foodie is wearing a bathing suit and holding their son Miles Stephens while the singer looks like he's focusing on something in front of him. Someone took notice of the image used it to make fun of the Bring the Funny judge's bum. "When it suddenly hits you that your lady doesn't have any ASS," a meme read.
"It's been 13 years and he knew the first night we met :)" Teigen quipped back at the post online. The Twitter user has since made their Twitter profile private.
However, the commentary about Teigen's body continued when another Twitter user posted the image with a different caption. "I'm f–kin crying bruh," the post read.
The candid star fired back, tweeting, "Everyone so used to ass shots and photoshopped instagrams. I've had no ass forever – is this new news to some of you?"
"F–kin lames wouldn't be able to stop blabbering if I got my ass done either. bored as all hell, never can win!" Teigen added.
"We laughing at dude face ma," the second poster responded. "That's what makes the pic funny. Stay blessed."
"His face, looking at my ass, so nah. I see the comments you know," she retorted. "Still enjoy you."
As Teigen and the Twitter user went back and forth about the photo, the star did not back down.
"Ma'am. If he wasn't in the pic, the pic wouldn't be funny. You know that right?" the Twitter user responded.
"Yeah. his grossed out face looking at my ass. you don't need to explain this to me. I get it. I know the meme and I see the 100s of comments under it *about* my body and his reaction to it. you were clowning on me or his look at me. that's all."
And for her last word on the matter, the mom of two added, "'Just laughing about his face' lolllllll sure (and I'm not that pressed, I've seen this photo all week – we follow each other and I can say what I want just like he can!"
Needless to say, her fans supported the clapback. As one weighed in, "Screw the haters! You're gorgeous inside and out @chrissyteigen."