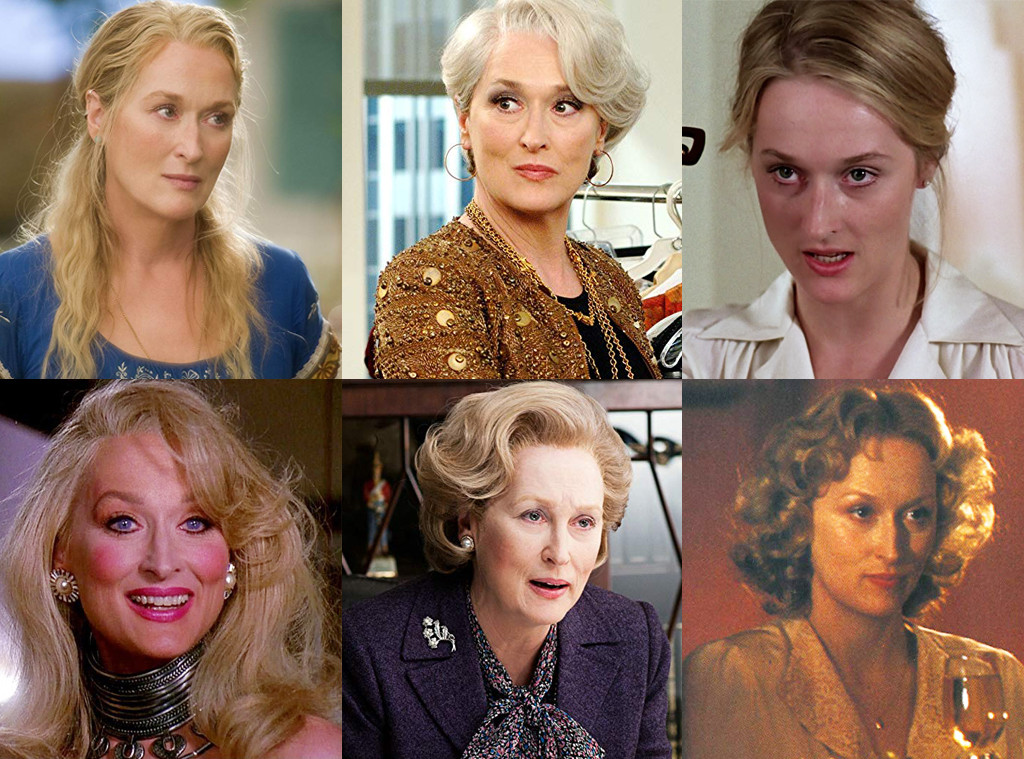 Universal Pictures;20th Century Fox; Columbia Pictures; Universal Pictures; The Weinstein Company;Universal Pictures
All hail Meryl Streep, America's national treasure!
We might not have a queen in America, but if we did, it would most likely be Streep, duh. The iconic actress is a legend in Hollywood for her decades upon decades of success and stunning performances on screen.
Now, the New Jersey native has reached another milestone…she's turning 70!
Back in 1976, Streep made her movie debut as a voice in an animated film and by 1978 she had her first big hit film on her hands with The Deer Hunter.
41 years later, the actress is a Hollywood staple, has the career others only dream of and what makes us love her even more is that she has sass and is always up for a laugh…even at her own expense.
The blonde beauty is graceful both on and off screen and she continually makes us feel less than, because let's face it, Meryl is winning at life and we're all just standing here trying to come close to her brilliance.
In honor of the Kramer vs. Kramer star's 70th birthday (where did the time go, right?!) we're taking a look back at her amazing and somewhat unbelievable career.
From Sophie's Choice, She-Devil and The Bridges of Madison County to Doubt, Mamma Mia! and The Devil Wears Prada, Streep has mastered the art of becoming another person on both television and in film and we're not worthy of her talent.
She is unlike anyone else in the acting world and that's proven by all of the roles she's been able to make her own over the past four decades. Plus, she's won three Academy Awards and been nominated for 21, so, like it or not, she's a pretty big deal.
Check out the birthday girl's most memorable film and TV roles throughout her career below and make sure to vote for the one you love most. It won't be easy, but it also won't be as hard as making an actual Sophie's choice…so get to voting.
PS: Happy birthday, Meryl, you'll forever be our Hollywood queen!
Columbia Pictures
The Deer Hunter, 1978
In her first hit film, Meryl Streep plays the part of Linda, the wife of an introspective deer hunter. She co-stars with the likes of Robert De Niro and Christopher Walken in this nine-time Academy Award-nominated epic war drama.
Columbia Pictures
Kramer vs. Kramer, 1979
This family courtroom drama follows the custody battle of former married couple Ted (Dustin Hoffman) and Joanna Kramer (Streep). This was also the first film in which Streep won an Academy Award and it was for Best Supporting Actress.
United Artists
Manhattan, 1979
Acting as Jill Davis, a divorced woman writing a confessional book, Streep stars alongside Woody Allen and Diane Keaton in this black-and-white romantic comedy.
United Artists
The French Lieutenant's Woman, 1981
Receiving nominations for five Academy Awards, the British romantic drama features Streep as "the French lieutenant's woman" as well as the actress Anna.
Universal Pictures
Sophie's Choice, 1982
Based on the novel by William Styron, the star actress plays a Polish immigrant in this drama. For her acclaimed performance, Streep was awarded Best Actress at the Oscars, marking her second Academy Award.
ABC Pictures
Silkwood, 1983
The biographical drama features Streep as a worker at a fuel fabrication site who lives with her boyfriend, played by Kurt Russell, and her lesbian friend, played by Cher.
Universal Studios
Out of Africa, 1985
In this epic romance drama, the New Jersey native co-stars with Robert Redford as an unmarried wealthy Danish woman who moves to Nairobi for a convenient marriage.
Paramount Pictures
Heartburn, 1986
Streep stars as Rachel Samstat, a Manhattan food writer who falls for a political columnist and womanizer, in this comedy-drama.
Orion Pictures
She-Devil, 1989
Acting as a narcissistic romance novelist, Streep's character develops an affair with an accountant, leading to a series of unfortunate events schemed by the accountant's vengeful wife.
Columbia Pictures
Postcards From the Edge, 1990
Playing the part of a recovering drug addict and struggling actress in this comedy-drama, Streep won Funniest Lead Actress in a Motion Picture at the American Comedy Awards.
Universal Pictures
Death Becomes Her, 1992
In 1992, Streep stepped into the role of Madeline Ashton, a narcissistic actress who seeks out a potion for eternal youth.
Universal Pictures
The River Wild, 1994
The adventure crime-thriller features the actress as a water rafting expert who takes her family on a holiday rafting trip in Idaho.
Universal Pictures
The Bridges of Madison County, 1995
In this romantic drama, the famed actress co-stars with Clint Eastwood as a recently deceased mother of two adult children. Streep won Best Actress in a Leading Role at the 68th Academy Awards and Best Actress in a Motion Picture Drama at the 53rd Golden Globes for her performance.
Miramax Films
Music of the Heart, 1999
Streep acts as Roberta Guaspari, a violinist who becomes a substitute teacher in East Harlem in attempt to rebuild her life in this 1999 drama.
Columbia Pictures
Adaptation, 2002
As a famed author, Streep's character must hide secrets from a screenwriter played by Nicolas Cage in this film.
Paramount Pictures
The Hours, 2002
Starring as Clarissa Vaughan, a New York woman prepping an award party for her poet friend with AIDS, Streep acts alongside Julianne Moore, Nicole Kidman and Ed Harris in this British-American drama.
HBO
Angels in America, 2003
Based on the Pulitzer-prize winning play, Streep plays multiple roles, including Hannah Pitt, Ethel Rosenberg, the Rabbi and the Angel Australia, in this HBO miniseries about playwright Tony Kushner's political epic focused on the AIDS crisis in the mid-1980s.
Paramount Pictures
The Manchurian Candidate, 2004
Co-starring with Denzel Washington in this political thriller, the actress plays the role of Virginia U.S. Senator Eleanor Prentiss, who is nominated as the Vice-Presidential candidate.
GreeneStreet Films/Entertainment Pictures
A Prairie Home Companion, 2006
A Prairie Home Companion takes a look backstage during the final broadcast of America's most celebrated radio show where performers like country singer Yolanda Johnson (Streep) and singing cowboys Dusty (Woody Harrelson) and Lefty (John C. Reilly) rule the airwaves.
20th Century Fox
The Devil Wears Prada, 2006
As Miranda Priestly, a revered fashion magazine editor, Streep's character ceaselessly demands her co-assistant, played by Anne Hathaway, to wait on her hand and foot. She is harsh, intense, a badass at her job and despite the fact that her workers fear her, there is something human and relatable to the character.
United Artists
Lions for Lambs, 2007
In this drama war film, Streep co-stars as a liberal TV journalist with Robert Redford, Tom Cruise, Michael Pena and Andrew Garfield, whose characters depict U.S. involvement in Afghanistan.
Universal Pictures
Mamma Mia!, 2008
Mamma Mia, Streep can sing! In the musical film, Streep's character Donna struggles financially as a villa owner on a small Greek island as she plans her daughter's Sophie's (Amanda Seyfried) wedding, while also unexpectedly reconnecting with past love interests. In 2018, the film got a sequel and Streep resprised her role.
Miramax
Doubt, 2008
Streep's performance as Sister Aloysius Beauvier in this drama is scary good. In the film, Sister Aloysius goes on a crusade to unearth the truth when rumors spread that the new charismatic priest, Father Flynn (Philip Seymour Hoffman), could be paying too much attention to a young student.
Sony Pictures
Julie & Julia, 2009
Contrasting the life of renowned chef Julia Child (played by Streep) with that of one of her culinary followers, Julia (Amy Adams) this comedy-drama takes viewers on a foodie adventure that's not to be missed.
Universal Pictures
It's Complicated, 2009
Ten years after divorcing her husband, a successful bakery owner named Jane (Streep), begins having an affair with her ex, despite the fact that he is re-married and she is falling for a new man.
Fantastic Mr. Fox, 2009
Streep voiced Mr. Fox's wife Felicity in this stop-motion animated comedy adaptation of Roald Dahl's classic children's novel.
Alex Bailey/The Weinstein Company
The Iron Lady, 2011
In the British-French biographical drama, Streep plays Margaret Thatcher as she comes to terms with her husband's death while looking back at her road to success. Streep won Best Actress at the 84th Academy Awards, Best Actress of a Motion Picture Drama at the Golden Globes and Best Actress of a Motion Picture at the Satellite Awards, among several other accolades for this role.
Sony Pictures
Hope Springs, 2012
Starring alongside Tommy Lee Jones, Streep's character seeks out intense marriage counseling from Dr. Bernie Feld (Steve Carell) in this comedy.
The Weinstein Company
August: Osage County, 2013
Playing the part of an oral cancer patient and narcotics addict, Streep was nominated for Best Actress at the Academy Awards for her role in this comedy-drama. The film also stars Julia Roberts, Ewan McGregor and Benedict Cumberbatch.
Weinstein Co.
The Giver, 2014
Based on the Newbery Medal award-winning novel, this social science fiction film features the actress as the Chief Elder. The movie shows what happens when a young boy from a seemingly perfect community without war, pain and suffering is chosen to learn from an elderly man about the "real" world.
Disney
Into the Woods, 2014
As a witch in pursuit of her stolen youth and beauty, Streep's character weaves together a quest that involves famous fairy tale characters. The musical fantasy film also stars Emily Blunt, James Corden, Anna Kendrick and many more big names.
Focus Features
Suffragette, 2015
In this British historical period drama, Streep plays the role of British suffragette leader Emmeline Pankhurst, who helps women in 1912 London to earn the right to vote.
Bob Vergara/Sony
Ricki and the Flash, 2015
After abandoning her family for the life of a rock star, Ricki (Streep) comes home to try and fix her relationship with her family. This movie also stars Streep's real-life daughter Mamie Gummer.
Paramount
Florence Foster Jenkins, 2016
Streep portrays Florence Foster Jenkins, a New York heiress who had dreams of becoming an opera singer, even though her voice was terrible, in this biographical film.
Niko Tavernise. © 2017 TWENTIETH CENTURY FOX FILM CORPORATION AND STORYTELLER DISTRIBUTION CO. LLC. ALL RIGHTS RESERVED.
The Post, 2018
In 2018, Streep was again nominated for an Academy Award, this time for her portrayal of Kay Graham, the first U.S. female newspaper publisher (of The Post), who used her platform to start a battle between the press and the government in to order to tell the truth about a cover-up regarding the Pentagon Papers that spanned four U.S. Presidents.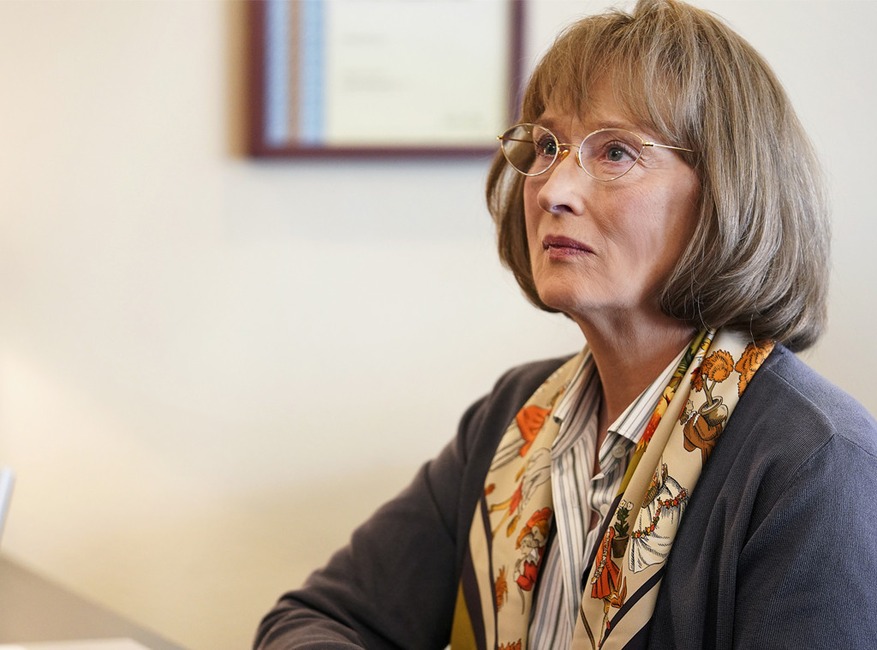 Jennifer Clasen/HBO
Big Little Lies, 2019
In the highly-anticipated second season of Big Little Lies, Streep joins the cast as Mary Louise Wright, the mother to the late Perry Wright (Alexander Skarsgård) and mother-in-law to Celeste Wright (Nicole Kidman), and she is ready to shake up Monterey.