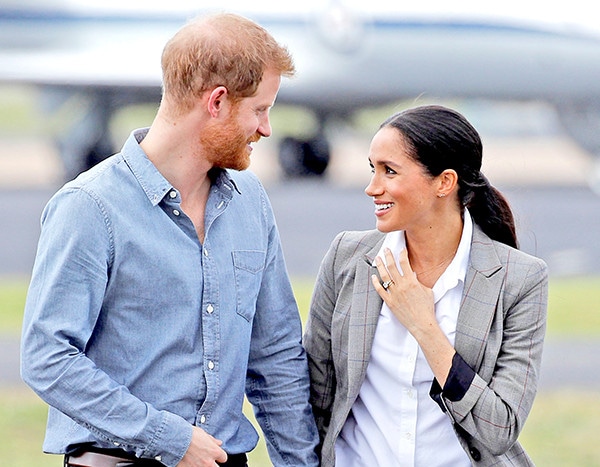 Pack your bags, Prince Harry and Meghan Markle!
The Duke and Duchess of Sussex are reportedly heading to Africa later this year.
Reports about the alleged adventure started spreading in April. While the Palace has yet to confirm these rumors, it hasn't denied them, either. A press officer for the royal couple told E! News "any official visits or tours undertaken by any members of the royal family are announced the usual way."
According to The Sunday Times, which first reported the news, Harry's advisers are working on a "bespoke" role for the couple that will involve work on behalf of the Commonwealth, charitable initiatives and efforts to promote Britain. Considering Harry is both Commonwealth Youth Ambassador, as well as president of The Queen's Commonwealth Trust, it could be a fit. Meghan is also vice president of the aforementioned Trust.
Still, the Palace is playing coy.
"Any future plans for the Duke and Duchess are speculative at this stage," the Palace said via a statement back in April. "No decisions have been taken about future roles. The Duke will continue to fulfill his role as Commonwealth Youth Ambassador."
However, if Harry and Meghan, were to be make the trip a lot of planning would have to take place. Here's everything we've heard about the tour so far.
When is the trip? Back in April, The Sunday Times reported the tour would take place in October and last for two weeks.
Where would they go? According to ITV News, the couple will visit Angola to highlight issues associated with the landmines and Malawi to expand the reach of Sentebale—a charity Harry founded with Prince Seeiso of Lesotho. The Daily Mirror also listed Botswana as a possible stop. As royal admirers are well aware, Harry has worked on several conservation efforts there and even took Meghan there for her birthday when they first started dating. The duchess' engagement ring even features a center stone from there.
Would they continue Princess Diana's work? Harry's mother famously walked through one of Angola's active minefields in 1997 and has been credited with raising awareness for an international treaty banning their use. While Harry has continued to champion her work, such as by visiting Angola in 2013 for a mine-clearing operation, there are rumors he'd continue her legacy during the visit with Meghan.
Would their son come? There have been conflicting reports as to whether their baby boy, Archie Harrison, would come on the tour. While The Sunday Times reported he would join the couple, ITV reported the decision is still up in the air. If the trip were to take place this October, Archie would be between 5 and 6 months old. As royal admirers will recall, Prince George was 8 months old when he made his first royal tour with Prince William and Kate Middleton.